Garrett Recom-Pro AML 1000 All Maetal Locator

EASY TRANSPORT!

Only 19.8 inches (504 mm) when folded.
The RECON-PRO easily collapses and folds to a compact size for storage in its backpack or watertight transport case.
COMPACT. RUGGED. WATERPROOF.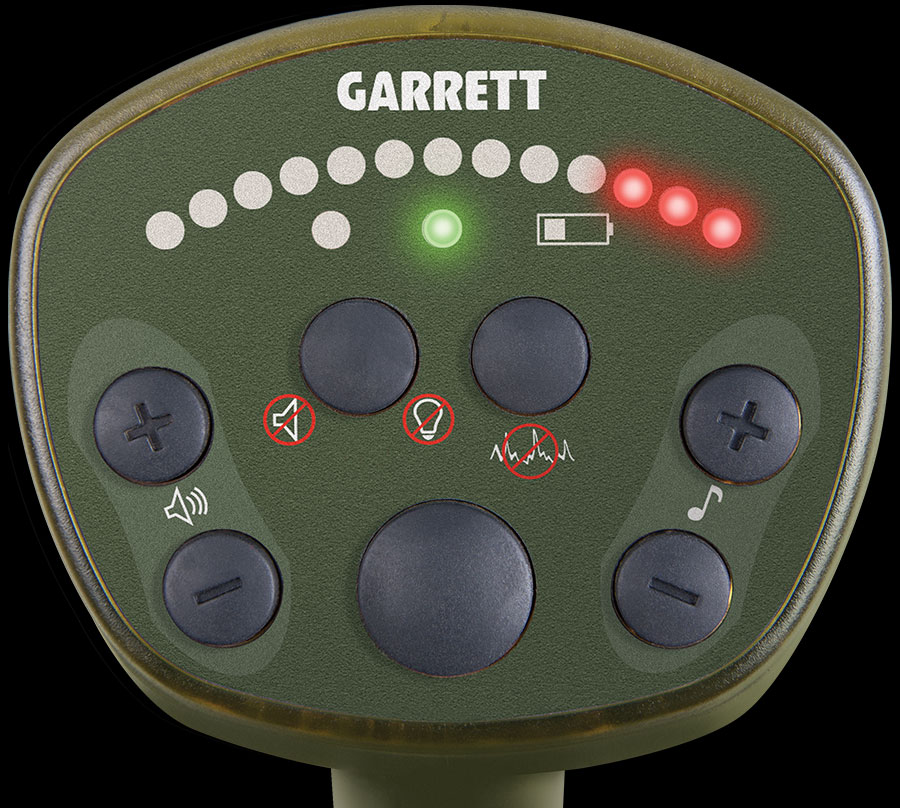 EASY ACCESS ADJUSTMENTS
Single push-button controls for Sensitivity, Tone ID, RFI Noise Elimination, and Adjustable Audio Threshold can be adjusted with one hand.
Operators can quickly set up the Recon Pro as required and fully concentrate on detection tasks.
TECHNICAL SPECIFICATIONS
Detector Length
19.8 in./504 mm (folded)
63 in./1600 mm (extended)
Weight
6.25 lbs. (2.83 kg) for detector;
24.15 lbs. (10.95 kg) w/case.
Detection Technology
Advanced Pulse Induction Technology (APIT)
Water and Dust Protection
IP 67
Design Standard
MIL STD 810 F
Warranty
24 months, Limited Parts/Labor
Operating Temperatures
Humidity to 95% non-condensing.

Alkaline, NiMH batteries: -10°F (-23°C) to 149°F (65°C).

Lithium batteries:-40°F (-40°C) to 149°F (65°C).

Storage temperature (without batteries): -72°F (-58°C) to 158°F (70°C).

Power
Eight (8) rechargeable AA cells. Charger and extra set rechargeable batteries included. Alkaline batteries optional. Average operation time with fresh batteries is 10–12 hrs.
Target Alerts
Adjustable audio volume/LED bar